Janice Krieger is Senior Author of an Article on Using Virtual Human Intervention to Promote Colorectal Screening
University of Florida College of Journalism and Communications STEM Translational Communication Center Director Janice Krieger is the senior author of "Internet-Based Tailored Virtual Human Health Intervention to Promote Colorectal Cancer Screening: Design Guidelines from Two Users" published in the Journal of Multimodal User Interfaces on Jan. 2.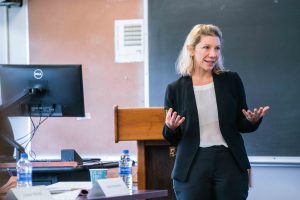 Krieger, Mohan Zalake, Fatemeh Tavassoli, Kyle Duke, Thomas George, Francois Modave, Jordan Neil and Benjamin Lok focus on two studies that examined the influence of visual design and influence of the information medium on user intentions to pursue more health information. The two studies provided design guidelines that can be used by developers when using virtual human-based interventions to positively influence users' intention to change behaviors.
According to the authors, "The analysis of the focus group transcripts from 73 users results in the following guidelines to the visual design when using a virtual human-based intervention: manage expectations of the virtual human by testing different virtual human roles; use organizational branding to build user trust and use focus groups to identify how messages can be most relevant to users."
Posted: January 11, 2021
Category: College News, STEM Center News
Tagged as: Janice Krieger, STEM Translational Communication Center