CJC Master's Student Comments on Job Prospects During the Pandemic
Matt Duffy, University of Florida College of Journalism and Communications master's student, is featured in "Unemployed Graduates Struggle to Find Jobs in the COVID-19 Market" published on vox.com on Dec. 9.
The article focuses on young adults who are having trouble launching their careers during the COVID-19 pandemic and how this could result in a lasting impact on this generation.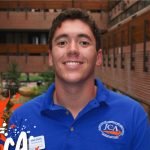 Duffy, who is an online master's student with a specialization in digital media, decided to pursue an additional degree and he is optimistic that the extra year of schooling will help define his career path.
"I'm trying to take a look at the options available to me and realizing that the traditional path is out the window," said Duffy. "If I'm not able to get a job because places aren't hiring, I need to figure out how to survive."
Duffy recently completed a CJC Social Media Community Management  class assignment to cultivate a Facebook community. The result is Born Zillennial, a space for young adults born in the mid to late 1990s that now has more than 100,000 members. The page's sudden growth, primarily driven by his TikTok promotion, inspired Duffy to rethink how he can monetize his digital skills.
"Before this class, I didn't even know what a community leader was," he said. "Now with the group growing and the skills I'm learning in this course, I'm realizing how a community leader can be a job. I could start making money off the page somehow, maybe do some consulting, and bring value into the group."
The pandemic has affected job prospects and many young adults are growing comfortable with shirking the idea of a "dream job."
"We're all in this together," Duffy said of the sentiments expressed on the Born Zillennial Facebook group. "Time will tell if it's an advantage or disadvantage that we start our careers not knowing what 'normal' used to be."
Posted: December 15, 2020
Category: Alumni News, College News, Student News
Tagged as: Born Zillennial, GHQ, Matt Duffy