CJC Master's Student Launches Popular Facebook Community Page for "Zillennials"
Matt Duffy, University of Florida College of Journalism and Communications Master's student, is featured in "Born Zillennial: UF Graduate Student Creates Viral Online Community" published in The Independent Florida Alligator on Nov. 8.
Duffy created the Born Zillennial Facebook Group as part of a semester-long project for his Social Media Community Management course taught online by CJC Adjunct Lecturer Justin Kings. Duffy's goal was to reach 100 members, but it quickly became a viral online community now sporting more than 100,000 members.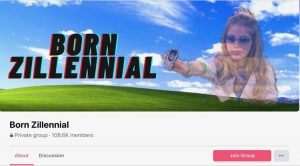 "The online community serves to bridge the gap between two rigidly defined generations, Millennials and Gen Z," Duffy said. "Members range from 18 to 29 years in age, but there is not a restriction on who can be a part of the group. Being a Zillennial is just a mindset."
Duffy introduced the Facebook group concept in an original TikTok video in October which now has more than 1.5 million views and over 250,000 likes.
"I basically told people to pity me and join my group so that I could get a good grade," he said. "But now, the group means so much more to me."
Duffy's course will end in December and he plans to expand the Born Zillennial community to Instagram and Twitter.
"There are so many opportunities to mobilize us," he said. "I have a million ideas but just have to see where I want my vision to go."
Posted: November 10, 2020
Category: Alumni News, College News, Student News
Tagged as: GHQ, Independent Florida Alligator, Matt Duffy, Social Media