Jordan Alpert Co-Authors Article on the Creation of Mobility Enhancements for Older Adults
Jordan Alpert, University of Florida College of Journalism and Communications Advertising assistant professor, is one of 31 co-authors of "Innovations in Geroscience to Enhance Mobility in Older Adults" published in Experimental Gerontology on Oct. 22.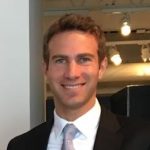 The article features a review on the evolving interventional approaches to enhance mobility in the growing population of older adults in the United States and countries throughout the world. The authors discuss the approaches to developing digital and mobile interventions, as well as the importance of focusing on how consumers learn, implement, and adopt such technologies, during and after the COVID-19 pandemic.
According to the authors, "Can we really slow the decline in mobility that occurs during aging? And can function improve as we age? The good news is that the answer to both questions appears to be an emphatic yes. Effective future interventions, however, will need to take into consideration factors across multiple domains, as well as the complex interaction among these factors. Findings over the past decade have highlighted the complexity of walking and how targeting multiple systems, including the brain and sensory organs, can have a dramatic effect on an older person's mobility and function."
Posted: October 27, 2020
Category: College News
Tagged as: Geroscience, Jordan Alpert