Clay Calvert Comments on the First Amendment and Access to Public Records in Florida
Clay Calvert, director of the Marion B. Brechner First Amendment Project at the University of Florida College of Journalism and Communications, commented in "The First Amendment and Florida's Historic Access to Public Records" broadcast on WESH-TV, the NBC-affiliate in Orlando, on Sept. 25.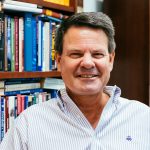 WESH's political and government reporter Greg Fox follows how Florida's historic access to public records is coming under attack with ever-increasing exemptions. Your right to peacefully demonstrate may also soon be in jeopardy.
"The danger is that the exemption will gradually swallow the rule," said Calvert. "Journalists are going to have an increasingly harder time of telling fact-based stories and the press plays a vital watchdog role, always has, exposing abuses of government."
Governor DeSantis is proposing a bill to create tougher penalties for protestors that cause property damage or block roads.
"That bill is going to have a large chilling effect on the ability to engage not only the First Amendment right of free speech, but also the First Amendment right of assembly," Calvert said.
Posted: September 30, 2020
Category: College News, Marion B. Brechner First Amendment Project News
Tagged as: Clay Calvert, Marion B. Brechner First Amendment Project