Clay Calvert Comments on Proposed Florida Anti-Protest Law
Clay Calvert, director of the Marion B. Brechner First Amendment Project at the University of Florida College of Journalism and Communications, was quoted in "DeSantis Could Make Florida Protest Laws Harshest in U.S." published in the Orlando Sentinel on Sept. 23.
The article focuses on a new proposal from Gov. Ron DeSantis. If it becomes law, protesters arrested in Florida could face the harshest punishments in the nation.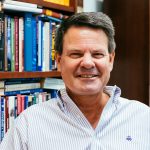 According to Calvert, "The result would be a 'chilling effect' on peaceful protests and could lead to self-censorship. The concept of 'disorderly assembly' is very broad, creating the potential for police to abuse their discretion."
"Would-be protesters 'may fear what they will be doing will be perceived as illegal,' Calvert said. "Rather than risk enhanced punishment, they won't engage in activities that might otherwise be lawful."
Calvert adds that DeSantis also proposed providing immunity for drivers who cause injury or death "if fleeing for safety from a mob," a change that he calls "inherently dangerous."
"We've already seen cars driving through protests," he said. "It's probably supposed to sound like self-defense, but it clearly has the potential for mischief and abuse."
Posted: September 23, 2020
Category: College News, Marion B. Brechner First Amendment Project News
Tagged as: Clay Calvert, Marion B. Brechner First Amendment Project