Clay Calvert Comments on FERPA and Proposed Changes to the Communications Decency Act
Clay Calvert, director of the Marion B. Brechner First Amendment Project at the University of Florida College of Journalism and Communications, was quoted in "Parents Concerned About School COVID-19 Cases Fear Laws May Protect Districts from Disclosing Important Health Information" posted on firstcoastnews.com on Sept. 22
Calvert comments on the Federal Educational Rights and Privacy Act (FERPA) and how schools are using it regarding COVID-19 cases.
"One is public health, safety and welfare of others in the school who may come in contact with those with COVID versus the privacy interests of those students who do have COVID-19," he said.
Calvert says FERPA shields districts from releasing student's education records, including health information.
"It would be very rare because under FERPA, the school district or the school itself, FEPRA applies to both, may not release the name of that student to another parent. That is the general assumption involved," he explained.
Calvert adds that says he sympathizes with parents who are looking for clarity but may not get a clear picture because of health laws.
"This is a severe public health crisis and the interest in public health, the safety of their children is very high, if not a compelling interest in this situation," he said.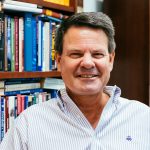 In addition, Calvert was quoted in "Wicker Calls CDA 230 Bill 'Very Reasonable'; Others Disagree" published in Communications Daily on Sept. 22. Calvert comments on a federal bill that reduces the immunity from liability that social media platforms now have under Section 230 of the Communications Decency Act.
"The Wicker bill 'amounts to more chumming of the political waters for Trump's base,' which is pushing the anti-conservative bias narrative," said Calvert. "Replacing the term 'considers to be' with the phrase 'has an objectively reasonable belief' is designed to 'reduce the wiggle room and discretion currently afforded' to social media platforms when 'they choose to remove content.'"
"Democrats and Republicans likely would have different opinions when defining 'an objectively reasonable belief,'" he said. "Defining concrete terms for harmful content on self-harm and terrorism 'is intended to cabin and confine the discretion' afforded to platforms through 230."
Posted: September 23, 2020
Category: College News, Covid-19 Updates, Marion B. Brechner First Amendment Project News
Tagged as: Clay Calvert, Marion B. Brechner First Amendment Project