Clay Calvert Comments on Alan Dershowitz's Libel Suit Against CNN
Clay Calvert, director of the Marion B. Brechner First Amendment Project at the University of Florida College of Journalism and Communications, was quoted in Erik Wemple's column "Stop Whining, Alan Dershowitz" published in The Washington Post on Sept. 16.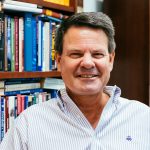 Calvert comments on defense attorney and legal scholar Alan Dershowitz's libel suit against CNN alleging that the network "falsely painted him as a constitutional scholar and intellectual who lost his mind." He is seeking $300 million in compensatory and punitive damages.
According to Calvert, Dershowitz is using the U.S. Supreme Court's ruling in the 1991 case Masson v. New Yorker Magazine about how far journalists permissibly can go in knowingly altering quotations.
"Masson was about fabricating quotes and altering quotations and putting words in someone's mouth, not editing and omitting content," said Calvert. "Editing largely is protected as a matter of journalistic judgment."
Posted: September 17, 2020
Category: College News, First Amendment Project
Tagged as: Clay Calvert, The Washington Post