Clay Calvert Comments on the Possible Libelous Nature of QAnon Allegations
Clay Calvert, director of the Marion B. Brechner First Amendment Project at the University of Florida College of Journalism and Communications, was quoted in "What is QAnon, the Baseless Conspiracy Spilling Into U.S. Politics?" published on Politifact on Aug. 27.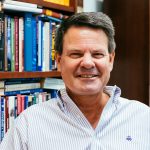 The article focuses on QAnon and its followers. QAnon is based on posts by Q, an anonymous internet persona who claims to be a government insider with information on a "deep state" plot to work against Donald Trump.  Claims from QAnon that Democratic public figures are Satan-worshipping, cannibalistic pedophiles are not based on facts and lawmakers have introduced bipartisan legislation condemning the conspiracy theory.
"If there are false factual allegations that would harm someone's reputation, then that can be fodder for a libel lawsuit," said Calvert. "The problem here, though, that we might think about is the so-called Streisand Effect — that you give more attention to something than it's probably worth by filing the lawsuit."
Posted: August 27, 2020
Category: College News, First Amendment Project
Tagged as: Clay Calvert, Marion B. Brechner First Amendment Project