Clay Calvert Comments on COVID-19 Policies at Educational Institutions
Clay Calvert, director of the Marion B. Brechner First Amendment Project at the University of Florida College of Journalism and Communications, was quoted in "The Emerging Campus 'Police State'" published in Commentary magazine on Aug. 24.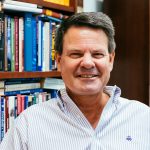 The article focuses on the variety of precautions and requirements established for students to maintain social distance to help control the spread of COVID-19. Many colleges and universities have consequences for those that do not comply and participate in large group activities with no masks.
According to Calvert, mass gatherings are vastly more effective vehicles for change than any online facsimile. "Symbolically, gathering people like that 'it can send a more powerful message.'"
Calvert was also quoted in "Covid in the Classroom? Shhh. Some Schools Are Keeping It Quiet" published in The New York Times on Aug. 22.
The article focuses on how some states and school districts provide detailed data on school COVID-19 outbreaks while others choose to keep such information under wraps.
"When schools have to shut down after students test positive, that doesn't look good politically on governors and lawmakers who have advocated for opening up," said Calvert. "So, the potential is there to hide behind privacy laws. There are definitely battle lines drawn, and the release of information can sway public opinion."
Calvert adds that schools have often abused privacy laws to hide damaging information that could expose them to lawsuits or negative media coverage.
"In the name of protecting personal privacy, many of those districts are really sacrificing public health concerns," he said.
Posted: August 26, 2020
Category: College News, First Amendment Project
Tagged as: Clay Calvert, Marion B. Brechner First Amendment Project