Kalisha Whitman Nominated for Mobile Journalism Award
Kalisha Whitman, University of Florida College of Journalism and Communications Innovation News Center senior TV news manager, is one of eight journalists from around the world to be nominated in the Mobile Journalism Awards Best Mobile Journalism Reporting category.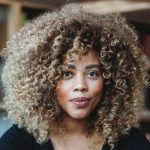 Whitman was selected for her entry "Nancy & the EF3." The video features a Leon County, Florida tornado survivor chronicling what she experienced during and in the aftermath of a tornado in March 2019. (Note: The video can be accessed with the password N@ncyEF3.)
The Mobile Journalism Awards, organized by a global partnership of journalism schools and non-profits, recognize excellence in non-fiction storytelling produced with smartphones, mobile and pocket cameras.
The eight films in the Best Mobile Journalism Reporting category are by journalists based in the U.S., Switzerland, France, Italy, Ireland and Australia. Due to the COVID-19 pandemic, the winner will be announced and the films will be screened in an exclusive online presentation from Berlin, Germany on Oct. 15.
Posted: August 20, 2020
Category: College News
Tagged as: Innovation News Center, Kalisha Whitman