CJC Mourns the Loss of Dean Emeritus Ralph Lowenstein
The University of Florida College of Journalism and Communications is mourning the passing of Dean Emeritus Ralph Lowenstein, who died on August 10 at the age of 90.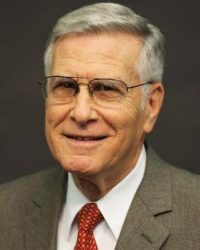 "We are deeply saddened by the loss of Dean Emeritus Ralph Lowenstein," said Dean Diane McFarlin. "To say that a cornerstone of our College has crumbled would not adequately express the role Ralph played in bringing our College to where it is today. No one has had a greater impact on this program. His imprint from nearly two decades as dean continues to be felt to this day. He was truly a transformational leader and an extraordinary human being."
Lowenstein, who served as Dean from 1976 – 1994, propelled the program into one of the premier communication programs in the country. Under his direction, the college opened a new building, Weimer Hall, in 1980.  He was a pioneer in digital media, including establishing the Interactive Media Lab in 1993, which created one of the first journalism-related Web sites in the world.
In 1981, the College also inaugurated Gainesville cable press, the first 24-hour rotatext cable newspaper in the U.S. and became the first communication program in U.S. to install and network 245 computers in all faculty offices, student laboratories and broadcast stations.
Also in 1981, the College launched national public radio station WUFT-FM and established the Joseph L. Brechner Center for Freedom of Information. And in 1990, the College conferred its first two doctoral degrees.
Read More About Ralph Lowenstein
Posted: August 11, 2020
Category: College News
Tagged as: Ralph Lowenstein