Roxane Coche Co-Authors Article on the First Black South African Olympic Marathon Winner
Roxane Coche, University of Florida College of Journalism and Communications Sports Journalism and Communication associate director and Telecommunication assistant professor, is the co-author of "'The Man South Africa Forgot:' Media Construction and Redemption of Postapartheid Hero Josia Thugwane" published in the Journal of Sports Media, Volume 15, Number 1, Spring 2020.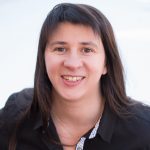 Coche and co-author Travis Bell focus on Josia Thugwane, the first black South African to earn a gold medal in an Olympic marathon. He was an uneducated coal miner who rose to fame at the 1996 Atlanta Olympics and then vanished after the 2000 Sydney Games. For their research they examined 179 news stories from five countries and spanning two decades to identify how the South African marathoner's identity was constructed and shaped from heralded to abandoned hero and why he resurfaced.
According to the authors, "Over time media appreciated his athletic success for what it was against the backdrop of apartheid, which is why Thugwane is still discussed in heroic terms for overcoming odds to reach his sport's pinnacle."
They added, "He may not be forgotten, but he is not remembered in the same elite manner as other trailblazing athletes who succeeded in the face of racial separatism in other nations. Instead, it has been a few media members and sports organizations (some from other nations) when distance races such as global marathons and the Olympics garner media attention that Thugwane is memorialized for his heroic feat – one moment of athletic bliss that faded under the weight of the sport."
Posted: July 29, 2020
Category: College News
Tagged as: Roxane Coche