Clay Calvert Comments on the Ability of Public Universities to Rescind Admissions Offers
Clay Calvert, director of the Marion B. Brechner First Amendment Project at the University of Florida College of Journalism and Communications, is quoted in "Can't Act on Posts, Says Chief at UAFS" published in the Northwest Arkansas Democrat-Gazette on June 23.
The story focuses on the ability of public universities to rescind admissions offers.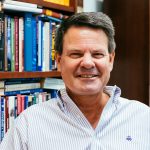 According to Calvert, public universities across the country are being put in this position as more and more students "are being outed, as it were." When it comes to speech, universities can take action if a current student makes a threat or harasses another student if the student's post is a true threat.
He said free speech protections mean that if an enrolled student on a personal account "uses racist, offensive or sexist language in the context of talking about some matter of public concern, they're going to be protected and the university is not going to be able to expel that student."
Calvert said there are differences between public and private universities, and private universities generally are able to take more action. For public universities, the law is "murkier" if a student is not yet enrolled.
"There is something called institutional academic freedom," Calvert said. He referred to a 1957 U.S. Supreme Court ruling in a case known as Sweezy v. New Hampshire.
Though the case is "not rock-solid precedent" when it comes to rescinding an admissions offer, Calvert said the case suggests that a public university has the freedom to choose the students that it wants to teach.
"A public university is going to have a much more difficult time expelling an enrolled student than it will rescinding an offer of admission to a student who has not yet started taking classes," Calvert said.
Posted: June 24, 2020
Category: College News, First Amendment Project
Tagged as: Clay Calvert, Marion B. Brechner First Amendment Project