Moni Basu Reflects on the COVID-19 Pandemic and Stories that Will Provide Guidance for the Future
Moni Basu, University of Florida College of Journalism and Communications Michael and Linda Connelly Lecturer for Narrative Nonfiction, is the author of "The Stories I Will Live By" published in The Bitter Southerner on June 10.
Basu writes about how the COVID-19 pandemic can provide stories that will offer guidance once it is over. The stories will help make sense of the world and help people process the complex issues of the day.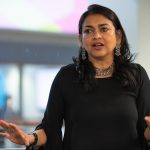 According to Basu, "This moment in time feels like no other. At the very same time that the coronavirus has shut us all down, a police-killing has brought us all out. We have been socially distanced now for many, many weeks but in the last few days, we have come together in the most important of ways. Surely, the pandemic must end one day. Won't it? What will our lives look like then?"
Throughout the article, she chronicles her time and experiences while in her self-imposed quarantine.
"I found myself navigating to CNN, the network where I worked for almost 10 years. I had watched intently for the first few weeks, but less so recently. I was suffering not from the virus but from virus fatigue. I had always despised it when editors batted away stories I proposed from Iraq because of 'war fatigue.' But now, I got it. The steady dose of terrible news has a way of squashing one's soul. I dreaded recoiling into my old somber self. I stopped watching CNN for longer than five minutes at a time. Thank you, Mindy Kaling. 'Never Was I Ever' more ready to laugh," said Basu.
Basu also share the sadness that she and her students felt when the University mandated online-only classes. "The rest of the semester felt like a roller-coaster ride: moments of utter joy on Zoom interspersed with grief so saturated that it felt as though someone in our midst had died. My students mourned the loss of classes, camaraderie, collegiate fellowship, and campus activities. The seniors bemoaned the loss of their convocation. They would graduate without ceremony, the day they had eagerly awaited four long years snatched cruelly from them."
Posted: June 16, 2020
Category: College News
Tagged as: Moni Basu