Clay Calvert Comments on UF's Decision to Rescind Admission After Racist Remark
Clay Calvert, director of the Marion B. Brechner First Amendment Project at the University of Florida College of Journalism and Communications, comments in "UF Reverses Admission Decision After Racist Post Resurfaces" broadcast on WCJB-TV20, that ABC television affiliate in Gainesville, Florida on June 9.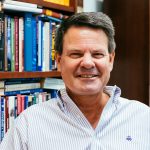 The story focuses on a prospective student's rescinded admission to UF due to a past racist Instagram post. UF is now looking into other cases of current and prospective students who have also posted racist remarks online.
"The First Amendment gives you a right to speak freely, but the First Amendment does not give you the right to admission to the University of Florida," said Calvert.
Calvert adds that it comes down to academic freedom. "An institution has the right to choose the students to whom it teaches and of course it cannot choose them based off of things like racial disparity or something like that, but it has the ability to choose the students that it wants to teach."
The reporter for the story is Nicole Rogers, B.S. Telecommunication 2020.
Posted: June 10, 2020
Category: Alumni News, College News, First Amendment Project
Tagged as: Clay Calvert, Marion B. Brechner First Amendment Project, Nicole Rogers