Clay Calvert Comments on Fox News Lawsuit and Trump's Threat to Regulate Social Media Platforms
Clay Calvert, director of the Marion B. Brechner First Amendment Project at the University of Florida College of Journalism and Communications, is quoted in "Seattle Judge Throws Out COVID-19 'Hoax' Suit Against Fox News" published in the Times of San Diego on May 27.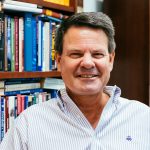 The article features WASHLITE, a nonprofit watchdog group in Washington state, and the status of their lawsuit targeting Fox News for allegedly reporting inaccurate information about the coronavirus and COVID-19. King County Superior Court Judge Brian McDonald found WASHLITE's goal to be laudable, but the claim against Fox is barred under the First Amendment.
According to Calvert, McDonald's opinion is "pretty meticulous" and "buttoned-down" as it ticks through all the major principles and WASHLITE's chances of prevailing on appeal are "slim to none."
"To their credit, [WASHLITE is] trying to help the public … be better informed," said Calvert. The First Amendment "stands as a bulwark against the government … punishing speech simply because they don't like the viewpoint."
Calvert also was quoted in "'Absolutely No Legal Authority': Trump's Threats to Shut Down Twitter are 'Totally Asinine' and Reek Censorship, According to Legal Experts" published in Business Insider on May 27.
The article focuses on President Trump's threat to "strongly regulate" or shut down social media companies for what the President perceives as an anti-conservative bias.
According to Calvert, Trump has no legal authority under his executive-branch powers to unilaterally shut down a social-media platform "simply because he disagrees with its policies for how it treats and now fact-checks his tweets."
"We have the First Amendment to protect the speech of private entities — Twitter being one of them — and individuals from government censorship, whether the censorship emanates from the legislative, executive, or judicial branch," Calvert added.
"This isn't China, where the government censors the social media as it sees fit and at will," he said.
Posted: May 28, 2020
Category: College News, First Amendment Project
Tagged as: Clay Calvert, Marion B. Brechner First Amendment Project