CJC Student Awarded Prestigious NAHJ Facebook Journalism Project Scholarship
April Rubin, a University of Florida College of Journalism and Communications Journalism senior, is one of only five students – and the only undergraduate – selected to receive a National Association of Hispanic Journalists (NAHJ) Facebook Journalism Project Scholarship.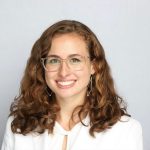 The Facebook Journalism Project is committed to supporting the next generation of journalists and the $10,000 Facebook scholarship is the highest monetary award of the seven NAHJ scholarships presents annually.
Rubin submitted a collection of her work including a combination of stories produced for WUFT through CJC Journalism Lecturer Herbert Lowe's Multimedia Reporting class and other articles published in the Independent Florida Alligator.
Click here to read more about Rubin's journey and the Facebook Journalism Project.
Posted: May 27, 2020
Category: College News, Student News
Tagged as: April Rubin, Herbert Lowe