Second Time's the Charm for UFCJC Journalism Student Awarded $10,000 Scholarship
By Taylor Johnson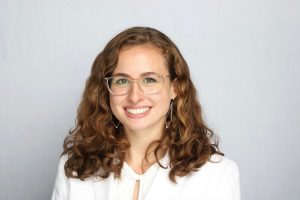 When April Rubin first applied for the NAHJ Facebook scholarship, she found out she was ineligible because of her freshman status.
"Since then, I've been on the mailing list and just been looking out for the scholarship application to reapply," said the rising junior at the University of Florida College of Journalism and Communications.
"I met the qualifications this year and just decided to go for it."
The CJC Class of 2022 journalism major's persistence paid off.
Rubin was recently informed that she is one of five recipients of the NAHJ Facebook Journalism Project Scholarship.
The award's prize is $10,000.
"I was kind of in shock," said the Miami native. "I don't think I processed the amount until we hung up and I went to tell my dad and I thought about how much rent that would cover."
The Facebook scholarship is the highest monetary award of seven National Association of Hispanic Journalists scholarships given out annually that aim to highlight and strengthen diversity in journalism.
"The goal behind this is to provide a pipeline of diverse journalists into the newsroom because we need to be at the table when decisions are made," said Leslie-Anne Frank, NAHJ's director of Next Generation Initiatives. "Also looking at news with a critical eye from our perspective to help people understand how news impacts our community."
Scholarship applicants must meet several criteria, including having at least a 3.0 GPA, submitting letters of recommendation from mentors or professors as well as an essay highlighting their career goals.
"There are so many reasons for students to join professional organizations like NAHJ — the mentoring, networking and connecting over issues of importance to the Latino community," said Joanna Hernandez, NAHJ Gator Chapter faculty adviser. "And as April has shown us, there is scholarship money waiting to be awarded."
Rubin said she heard about the Facebook scholarship after being awarded a different NAHJ scholarship and when she attended the NAHJ conference in San Antonio, Texas, in September.
"We are so proud of April," Hernandez said. "She is a hard-working student journalist and very deserving of this award."
As part of her scholarship application, Rubin submitted a selection of her works — a combination of stories produced for WUFT through Journalism Lecturer Herbert Lowe's Multimedia Reporting class and other articles published in The Independent Florida Alligator.
This summer, Rubin is interning at the Miami Herald and taking summer online classes while working toward her bachelor's degree.
"I really didn't expect to win the top prize," said the full-time UF student, who has a minor in anthropology and Latin American Studies, "but was very happy when I found out I did."
After being awarded the Facebook Journalism Scholarship, Rubin was also notified that she has been selected to participate in NAHJ's Student Fellowship, an accolade awarded by a different team of application reviewers.
The goal of Student Fellowship is to help college students gain experience working in a newsroom during the national conference with guidance from professional mentors, Frank said. Rubin and other fellows will participate in two weekend-long online training sessions prior to this year's NABJ/NAHJ National Conference and Career Fair, which is set for August 5 – 9. And just like the conference, the newsroom will be managed and conducted virtually.
Rubin's fellow NAHJ Gator Chapter members were excited for their colleague and for the opportunity to celebrate her achievements as well.
"Congratulations, April! We are all happy and proud of your achievement on behalf of the NAHJ Gator chapter," said Camila Portillo, NAHJ Gator Chapter president. "We hope the way ahead is even brighter."
The Facebook Journalism Project Scholarship Program is the result of separate partnerships between Facebook and five journalism organizations ­– Asian American Journalists Association, Native American Journalists Association, National Lesbian and Gay Journalists Association, National Association of Hispanic Journalists and Natioal Association of Black Journalists — that started in 2018.
(Taylor Johnson is a UFCJC journalism senior focusing on data visualization and assistant to the director of Inclusion and Diversity.)
Posted: May 27, 2020
Category: Diversity News
Tagged as: April Rubin, Camila Portillo, Herbert Lowe, Joanna Hernandez, National Association of Hispanic Journalists