Julie Frey Honored as Professional of the Year by FPRA Gainesville Chapter
Julie Frey, University of Florida College of Journalism and Communications Office of Careers and Corporate Sponsorships director,  received the John S. Detweiler  Professional of the Year Award by the Florida Public Relations (FPRA) Gainesville Chapter.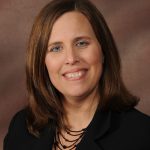 The honor is given to an individual who demonstrates the highest standards of ethics, performance and service to the public relations profession and recognizes outstanding contributions to the Gainesville Chapter.
During the online awards ceremony, Angela Chan, B.S. Public Relations 2017, received the Rising Star of the Year award and Amelia Bell, B.S. Public Relations 2003, M.A.M.C. 2009, received the Member of the Year Award.
The Gainesville chapter was founded in 1968 and has a tradition of personal and professional development, mentoring and community service. Currently the chapter has more than 75 professionals and students who work in corporate, educational, government and nonprofit settings.
Posted: May 26, 2020
Category: Alumni News, College News
Tagged as: Amelia Bell, Angela Chan, FPRA Gainesville Chapter, Julie Frey