Clay Calvert Comments on Consequences for Workers Who Resist Wearing Face Masks
Clay Calvert, director of the Marion B. Brechner First Amendment Project at the University of Florida College of Journalism and Communications, is quoted in "Refusing to Wear a Mask at Work Could Get You Fired" published in Bloomberg Law on May 20.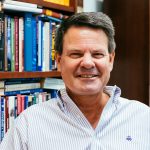 The article focuses on consequences workers may encounter if they refuse to wear face coverings during the pandemic. Few legal options are available for them to challenge coronavirus prevention policies.
According to Calvert, government employers have the authority to enforce regulations on their employees' conduct designed to protect health, safety, and welfare of the public.
"A public employer's ability to enforce a safety rule that's generally applicable to its workers would trump an individual worker's free speech rights," Calvert said.
Posted: May 20, 2020
Category: College News, First Amendment Project
Tagged as: Clay Calvert, Marion B. Brechner First Amendment Prioject