Jack Barry Joins CPIC as a Post-Doctoral Research Associate
Jack J. Barry has joined the University of Florida College of Journalism and Communications Center for Public Interest Communications (CPIC) as a  post-doctoral research associate.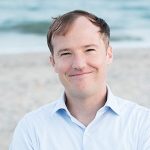 Barry earned his doctoral degree in Political Science from the University of Connecticut (UConn). His research areas include a focus on the impact of communication technologies on development, poverty and politics, and he is also investigating access to the Internet as a new emergent human right.
Previously, Barry was a post-doctoral associate at UConn working closely with the U.S. Department of State's Bureau of Educational and Cultural Affairs hosting the Young Southeast Asian Leaders Initiative and the Study of the United States Institute.
According to Center Director Ann Christiano, "We are grateful to add Jack's perspective in international policy and a political science frame to the work the Center does pulling insights from behavioral, cognitive and social sciences to make strategic communications for good more effective."
Posted: May 14, 2020
Category: College News
Tagged as: Center for Public Interest Communications, Jack Barry