Deaven Hough and Elizabeth Flood-Grady Author Article on Using Social Media to Recruit Research Participants
Deaven Hough, M.A.M.C. 2017, University of Florida College of Journalism and Communications Center for Translational Science Institute (CTSI) recruitment specialist and STEM Translational Communication Center Postdoctoral Associate Elizabeth Flood-Grady, are the authors of "Getting Started with Social Media to Recruit Research Participants" published in Clinical Researcher on April 14.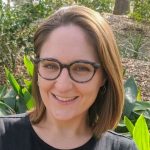 Hough and Flood-Grady found that recruiting participants into research studies is a difficult challenge. In response, they have developed guidelines for recruitment on social media and launched a Facebook page, UF Studies, as a central channel for recruitment advertising and general information about study participation.
They facilitated a committee and work group to establish guidelines on how teams and institutions can ethically and effectively use social media channels for recruitment. The guidelines emphasize compliance with social media site terms of use; participant privacy, confidentiality, and data security; and procedures and considerations for using social media to recruit participants.
Their guidelines focused on Facebook as the primary social media platform to recruit participants, due to the platform's expansive reach and large base of users.
According to the authors, "The CTSI Recruitment Center provides no-cost consultations for research teams identifying and evaluating study recruitment methods, including Facebook, and creating comprehensive recruitment strategies for individual studies and grants. Once the study team has an IRB-approved plan, the CTSI Recruitment Center launches the advertising campaigns on the UF Studies Facebook page."
They added, "Utilizing existing Facebook groups and pages is a good option for teams with a limited budget (it's free) and if there is a specific disease condition where pages and support groups exist."
Posted: April 20, 2020
Category: Alumni News, College News, STEM Center News
Tagged as: Center for Translational Science Institute, Deaven Hough, Elizabeth Flood-Grady, STEM Translational Communication Center