Matt Sheehan Comments on Social Media Misinformation
Matt Sheehan, University of Florida College of Journalism and Communications Center for Public Interest Communications managing director and Journalism lecturer, was quoted in "States Launch 'Trusted Information' Efforts Against Fake News on Social Media" featured on CNN on March 3.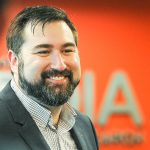 The story focused on the escalation of social media misinformation ahead of Super Tuesday. According to Sheehan, there's no single solution for a problem as abstract and multi-faceted as online misinformation.
"I wish there was a fix as simple as a hashtag, but it runs counter to how we're wired as humans," he said. "Our personalities and worldviews color the information we find credible, or seek out as consumers."
Posted: March 4, 2020
Category: College News
Tagged as: Matt Sheehan