Clay Calvert Comments on the Use of the N-Word and the First Amendment
Clay Calvert, director of the Marion B. Brechner First Amendment Project at the University of Florida College of Journalism and Communications, was quoted in "English Department Responds to Use of N-Word in Class" published in The Appalachian on Feb. 29.
The article focuses on the use of the N-word in an African American Literature class by an Appalachian State English professor.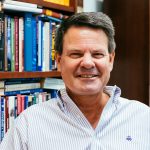 According to Clay Calvert, protection for the professor under the First Amendment would boil down to whether the use of the N-word was relevant to the subject matter.
"To the extent that she may have been quoting from a work of or about African American literature in a class about African American literature, it would seem — at least at first glance — to be germane to the subject matter, as compared to being gratuitous or unrelated," Calvert said. "That does not mean, however, that the use of that word is morally, culturally or socially appropriate, even though it might be legally permissible."
Posted: March 3, 2020
Category: College News, First Amendment Project
Tagged as: Clay Calvert, Marion B. Brechner First Amendment Project