CJC Alum Elected National Press Photographers Association President
Andrew Stanfill, B.S. Journalism 2009, was recently elected president of the National Press Photographers Association (NPPA) at the group's annual board meeting. Stanfill is the deputy photo editor at the New York Times News Service in Gainesville.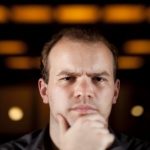 Stanfill previously served as the Regional Chairs Representative for NPPA, the leading voice advocating for the work of visual journalists. At the News Service, he edits photos produced by photographers around the world for distribution to over 400 service clients. For many years, he has also served as the teaching assistant for University of Florida College of Journalism and Communications Journalism Associate Professor John Freeman's Berlin Study Abroad student photojournalism trip.
Posted: February 13, 2020
Category: Alumni News, College News
Tagged as: Andrew Stanfill, National Press Photographers Association