Clay Calvert Comments on Free Speech "Brick" Controversy
Clay Calvert, director of the Marion B. Brechner First Amendment Project at the University of Florida College of Journalism and Communications, was quoted in "Trump 2020 Flagler Ave. Brick Controversy Shelves NSB Sidewalk Program" published in The Daytona Beach News-Journal on Oct. 26.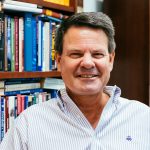 The article features a New Smyrna Beach "Personalize-a-Brick" program run by a private entity, the Flagler Avenue Business Association. Proceeds from the brick sale benefit events that attract tourists. A recent brick purchase featured a pro-Trump message and the Association removed the brick due to its political message.
According to Calvert, a private organization would be allowed to restrict free speech, but the exception is narrow and applies when a private entity performs a function that has been both traditionally and exclusively performed by the government.  "In such cases, the private entity is treated as a state actor, meaning a government entity, and the First Amendment comes into play."
Calvert said the brick program "throws a new wrinkle" on the function of maintaining city streets and sidewalks normally managed by the government. The courts call this a "public function" test.
"If the business association is determined by a court to be a state actor under this test, then the First Amendment is triggered. In that case, the buy-a-brick program likely would be treated as a type of public forum for speech, with people speaking through brick purchases. The U.S. Supreme Court has made it clear that the government cannot discriminate against speech based on the viewpoint conveyed in public forums."
Calvert adds that the association can craft a policy that regulates speech on the bricks, but it cannot discriminate.
"Regardless of what topic one can put a message about on a brick, the government cannot require that one can only say positive things about the topic and not negative things. That's viewpoint discrimination," Calvert said. "It's akin to a law that states 'you can only say pro-choice messages about abortion and not pro-life messages.' That would violate the First Amendment."
Posted: October 29, 2019
Category: College News, First Amendment Project
Tagged as: Clay Calvert, Marion B. Brechner First Amendment Prioject