Ron Rodgers Honored by the American Journalism Historians Association
Ron Rodgers, University of Florida College of Journalism and Communications Journalism associate professor and graduate coordinator, received the American Journalism Historians Association (AJHA) David Sloan Award for Outstanding Faculty Paper for "Journalism and the Concept of the Constructive." He also received an Honorable Mention for Book of the Year for his book The Struggle for the Soul of Journalism: The Pulpit versus the Press, 1833-1923.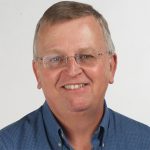 Rodgers received the awards at the annual AJHA convention in Dallas on Oct. 3-5. AJHA was founded in 1981 to advance education and research in mass communication history. Through its annual convention, regional conferences, committees, awards, speakers, and publications, members work to raise historical standards and ensure that all scholars and students recognize the vast importance of media history and apply this knowledge to the advancement of society.
Posted: October 15, 2019
Category: College News
Tagged as: American Journalism Historians Association, Ron Rodgers