CJC Alum's Dissertation Receives AJHA 2019 Blanchard Prize
Richard Shumate, Ph.D. 2018, has received the American Journalism Historians Association 2019 Margaret A. Blanchard Dissertation Prize. Shumate is currently an assistant professor at Western Kentucky University School of Journalism and Broadcasting.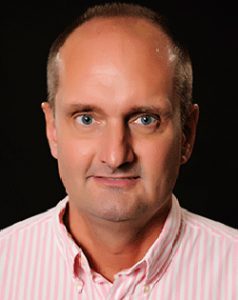 The Blanchard Prize is awarded to the best doctoral dissertation dealing with mass communication history. Shumate was recognized for his work on "Elite Voices and Irritated Conservatives: Pathways Leading to the Perceptions of Liberal Media Bias Arising from Elite News Media Coverage of the Emergence of Movement Conservatism, 1960-1964." CJC Advertising Assistant Professor Huan Chen served as his dissertation chair.
AJHA, founded in 1981, seeks to advance education and research in mass communication history.
Posted: May 22, 2019
Category: Alumni News, College News
Tagged as: American Journalism Historians Association, Richard Schumate