Clay Calvert Comments on Law Suits Challenging Free Speech
Clay Calvert, director of the Marion B. Brechner First Amendment Project at the University of Florida College of Journalism and Communications, was quoted in "What's a Threat? Arrest of Ocala Rapper Test Limits on Speech" published in The Gainesville Sun on April 11.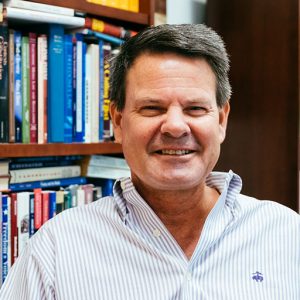 The article focuses on an Ocala rap artist who was arrested for allegedly threatening a mass shooting. His song lyrics included threatening to shoot up a UF football game and possible violence at a local nightclub. His case mirrors a true threats case scheduled to be heard later this month in the U.S. Supreme Court.
"Rap is a heavily stigmatized genre of music," said Calvert. "It's not unusual for rap to find itself in the crosshairs of prosecution."
According to Calvert, the Supreme Court has ruled "true threats" are not protected speech. However, the Court has not made clear whether the threat must be a real intention of the person who speaks it, whether it's enough that a reasonable person believes it, or whether it's both.
"People who listen to rap music understand lyrics are not always supposed to be taken literally, and rappers often take on personas, often violent ones," he said.
Calvert also commented on "Nunes Faces High Bar to Clear in $150 Million Defamation Suit Against Newspaper Chain" posted on WKRC-TV, Local 12, the CBS affiliate in Cincinnati, Ohio.
In the story, Rep. Devin Nunes, R-Calif, accused a major newspaper publisher of trying to destroy his reputation. He is suing for defamation, but legal experts say his case may be difficult to prove. Nunes claims that the newspaper wrongly suggested a winery-sponsored cruise that was a fundraising event was connected to him.
According to Calvert, journalists have "fair report privilege," which protects them from defamation for citing official public documents. That likely would apply to quotes from the lawsuit filing that claimed the cruise was attended by the winery's investors, especially since the article subsequently cites a winery spokesperson disputing it.
Calvert adds that Nunes could argue the photos and videos of him accompanying the story online amount to defamation by implication, but he would need to prove that readers would look at the totality of the story and conclude he was involved in the cruise.
"The question is always going to be, what is the impression a reasonable reader is going to take away from all this?" he said. "That's all window dressing. It's going to come down to, is there a false factual assertion made in the article? Minor errors or inaccuracies that do not affect the overall gist generally are not actionable."
Posted: April 11, 2019
Category: College News
Tagged as: Clay Calvert, Marion B. Brechner First Amendment Prioject