Rita Men Co-Authors Article on Positive Emotional Culture Research
Rita Linjuan Men, University of Florida College of Journalism and Communications Public Relations associate professor, is the co-author of "Creating a Positive Emotional Culture: Effect of Internal Communication and Impact on Employee Supportive Behaviors" published in Public Relations Review on April 1.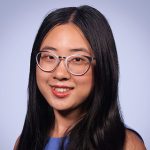 The article, co-authored by CJC doctoral student Cen April Yue, focuses on the outcome of their study of the effect of internal communication on positive emotional culture. The study included a web survey distributed to U.S. employees. Results from the 506 participants showed symmetrical communication and responsive leadership communication cultivated a culture of joy, pride and gratitude fostered by organizational citizenship behavior and employee advocacy.
Posted: April 9, 2019
Category: College News, Student News
Tagged as: Cen (April) Yue, Public Relations Review, Rita Men