"Peak Florida" Chronicles Florida's Population Growth and Its Impact
"Peak Florida," created by students in the University of Florida College of Journalism and Communications fall 2018 Environmental Journalism course, focuses on how Florida's population growth, weakened development regulations, and accelerated climate change is affecting the Sunshine State.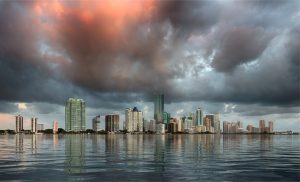 "Peak Florida" tells the story in five parts: Florida's Growth, The Fate of Fish Island, Rural Heritage, Room for Wildlife, and Solutions. Stories include interviews with some of the state's heritage citrus families, a report on St. Johns County residents trying to save coastal wetlands and a historic island, efforts to make the Central Florida region a model for smart growth, protection of Florida's wildlife, and seven "must do" solutions to maintain and protect the state.
The course was taught by Cynthia Barnett, CJC and Bob Graham Center for Public Service Environmental Journalist-in-Residence.
Posted: December 21, 2018
Category: Alumni News, College News, Student News
Tagged as: Cynthia Barnett, Environmental Journalism, Peak Florida