ALUMNI: Adrienne Chance Propelled by Teacher's Words: "You can do this, and you WILL do this."
By Alexa Asendorf, B.S. Public Relations 2013
Most collegiate paths are circuitous: The average college student changes their major at least three times over the course of their higher education journey.
Not Adrienne Chance, B.S. Public Relations 2007.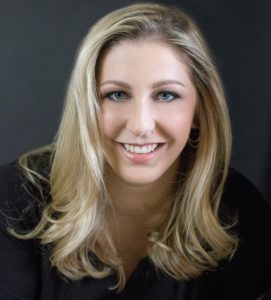 In high school, Chance (née Browne) decided she would pursue a career in public relations. As a senior, she and her parents set off to tour a handful of colleges. Their first stop was the University of Florida. As they meandered through UF's red brick buildings and explored its nationally ranked public relations program, Chance made her decision. They cancelled the other college tours.
That decisive moment, along with the influence of several CJC faculty members, eventually led her to Borden Dairy, where she is now senior director of corporate communications.
As a public relations major at UF, Chance hit all of the milestones. As an active member of the Public Relations Society of America (PRSA) and freelance writer for The Independent Florida Alligator, she was involved on campus. She thoroughly enjoyed her campaigns course and still keeps in touch with her classmates. Together, they worked on a project for the Center for Tourism Research and Development. And, of course, she took reporting with Journalism Master Lecturer Mike Foley.
"Professor Foley's lectures were always captivating – he told great stories!" she beams. "For me, the reporting class was a pivotal moment. It challenged me to fact check and have perfect punctuation and grammar. I learned how to write a compelling lede that draws in the reader. I still carry the lessons I learned in that class with me today."
Chance's public relations curriculum served her well. It provided her with a solid foundation of writing skills, the ability to tailor audience-centered messages, and a deep understanding of the power of telling stories that resonate with people.
Her time at UF also provided something special and invaluable – a lasting mentor.
Chance met Public Relations Professor Kathleen Kelly early on in college through PRSA. She greatly admired Dr. Kelly and went to her for advice.
"I was a sophomore, and I hadn't taken any public relations classes yet," Chance said. "Nonetheless, I had applied to an internship with Deveney Communication in New Orleans. I'd never even been to Louisiana, and I thought that my getting the internship would be a long shot, given my lack of experience. When Deveney told me I was hired, I panicked. I thought I wasn't qualified."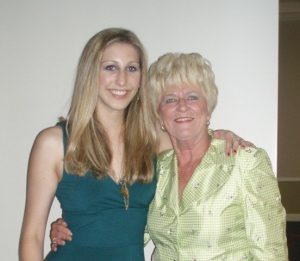 When she voiced her concerns to Dr. Kelly, she was met with a confident and insistent reply, "You can do this, and you WILL do this."
Kelly gave Chance the push she needed to accept the internship.
"My experience at Deveney set the stage for securing two other internships and, ultimately, my first professional job. Dr. Kelly taught me that just because you don't think you have the skills today, fear shouldn't stop you from making bold moves and going after what you want. That advice has followed me throughout my career. Sometimes I think, 'Maybe I can't do this.' But I just tell myself, 'I'll figure it out. I will learn.'"
The resolve that Kelly helped Chance cultivate has consistently propelled her forward in her career. After graduating from UF in 2007, she spent five years at Southwest Airlines as a writing specialist, and a year and a half as a public relations manager and communications specialist for T-System, Inc., before embarking on a transformational journey as Topgolf's director of corporate communications.
Topgolf, which was founded in England, had just seven venues worldwide when Chance joined the company in 2012. At the helm of Topgolf's communications department, she acted as chief spokesperson, drove internal and external communications strategies, oversaw charitable giving, and drew the blueprints used to promote the opening of dozens of venues across the country. During the six years she spent at Topgolf, the company's work force grew from 1,500 to 15,000 associates.
"It was a gargantuan role, and I was honored to have that opportunity and trust at that early stage in my career," she said. "Not many people get the opportunity to help build a company culture and brand, let alone during a period of exponential growth or while in their twenties."
Her time at Topgolf provided myriad opportunities for learning and growth, as well as personal fulfillment. In addition to helping the company earn national recognition as a top workplace, the most rewarding component of her job was leading Topgolf's charitable giving programs.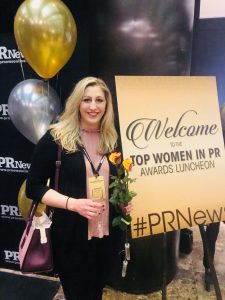 Under Adrienne's direction, Topgolf partnered with Make-A-Wish, offered free game play every Monday through Thursday for high school golf teams and charities serving youth. They even gifted recycled golf equipment to active military troops. This last initiative – serving deployed troops – was particularly personal, as Adrienne's husband is an Air Force veteran.
"The troops would set up makeshift Topgolf venues in the desert while serving overseas, and they would send photos periodically, which always brightened my day, " said Chance. "One soldier mailed me a flag he flew over Afghanistan as a thank you, and I have it framed and hanging in my office."
Chance's affinity for giving back extends to her personal life. After experiencing firsthand the benefits of mentorship, she has come full circle and become a mentor herself. In 2016, she began volunteering with Big Brothers Big Sisters of Dallas, and, as of this November, Adrienne and her husband are hosting a 17-year-old exchange student from Tunisia.
This summer, Adrienne embarked on her most recent professional endeavor: Senior Director of Corporate Communications at Borden Dairy Company.
"I had been at Topgolf for six years, and I wanted to make sure I didn't get too comfortable. I wanted to continue to learn and grow. Topgolf was a building job; I got to create programs from scratch. I sought a new challenge that would involve fixing things – a turnaround story. "
In contrast to the startup vibe at Topgolf, Borden is a legacy brand that has been around for more than 160 years. After a number of ownership and leadership shifts, Borden is ready to reclaim its position as a leader in the dairy industry.
"Borden has had virtually no communications or marketing function in more than a decade. Despite that, the Elsie mascot remains one of AdAge's top 10 most recognizable advertising icons of the 20th century. People still have a strong affinity for Borden because of Elsie and the nostalgia she represents. The challenge and opportunity Borden faces is that milk is a commodity. People will continue to drink milk regularly, but how do we differentiate our milk? How do we make the brand something consumers connect to on a deeper level so when they think of milk, they think of Borden?"
The enthusiasm and readiness to meet the challenges of her new job come through clearly in her tone, echoing with Dr. Kelly's assertion, "You can do this. You will do this."
Posted: November 29, 2018
Category: Alumni Profiles, Profiles