STUDENT: Bhakti Sharma Leaves the Frigid Waters of Antarctica to Pursue New Dreams at UF
By Lenore Devore , B.S. Journalism 1984
Bhakti Sharma set a world record for swimming in the 34-degree waters of Antarctica, left her family behind, moved to the United States by herself to attend college, and has given motivational speeches to thousands of people.
But competition scares her.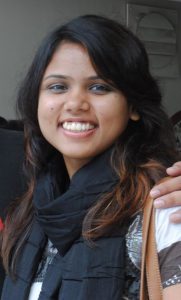 The 28-year-old University of Florida College of Journalism and Communications graduate student has been swimming since she was 2 years old.  Her mother, Leena, was her coach, and, along with her father, Chandra Shekhar Sharma, her biggest supporters.
She shares her story of her early days in the pool — and how she ended up becoming the youngest person to swim in all five oceans and seven seas, and set a record for swimming 2.2 kilometers (1.367 miles) in frigid water in 41 minutes — with ease.
"It started when I was 14. The town I come from, in a desert state, has hot summers and cold winters. We didn't have an all-season pool," Sharma says. "If you miss out on practices four to five months a year, you fall behind on the national level. Mom asked them to keep the pool open."
They did, and Bhakti swam. But, "It was really boring. I was the only one in the pool. I was tired of swimming against the clock. My mom had this dream of swimming the English Channel. Her family didn't support her. I was doing a practice swim, and she came up to me and said, 'Do you want to swim the English Channel?'." Bhakti said yes, then did her first open-water swim in the Indian port of Uran.  
"Before I knew it, it was all five oceans."
In 2008, she and her mother swam across the English Channel, the first mother-daughter team to do that. Years later, she learned about Lewis Pugh, a British open-water swimmer who had once held the record Sharma broke. "I wanted to follow in his footsteps. I really admired him."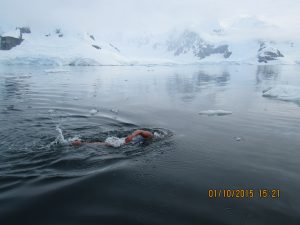 In 2015 she did, describing the experience like this: "When you hold a piece of ice, all your blood rushes to protect the core of your body, heart and lungs. It's like a thousand needles are poking you."
There was so much more than the swim, though. "Everything that went behind it, logistics, getting sponsors, that was such a difficult journey — just reaching that place. That's been my entire life."
She took two years off after Antarctica and thought about retiring. Now she swims with the Gator Swim Club. "I'm trying to get over my fear of competition. Swimming now is about personal growth."
And that's never far from her mind. Born in Mumbai and raised in Udaipur, Rajasthan, Bhakti holds an MBA from Symbiosis School of Media and Communication and a bachelor's degree in Commerce from Mohan Lal Sukhadia University. She had traveled to the United States to visit her aunt in St. Petersburg, and was familiar with Florida, both of which helped her decide to get her Master's Degree in Advertising from UF.
She started here in 2017 and plans to finish her master's studies in 2019 before turning her eye toward a doctorate in psychology — her end goal, along with swimming. She's admired all her professors in the CJC but is grateful to Dr. Michael Weigold, who asked her about her plans in a recent meeting.
"He was so helpful in guiding and advising," she says. "I sit through all of his classes; I admire the way he teaches in class."
Ultimately, Sharma wants to teach and continue research in the field of psychology and advertising. "I'm still in the process of narrowing it down and that's where the Masters degree is helping me," she said. "This education is exposing me to new avenues and I am learning the necessary skills required to thrive in an academic career. Coming from a business background, I had little experience in research and I have learned a lot during my year here and working on a thesis is giving me a chance to apply all that I have learned under the guidance of really experienced professors."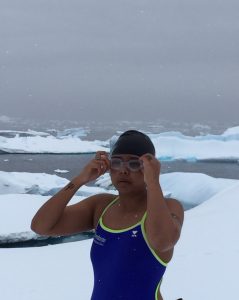 Sharma says her life transitions about every two years, and she never ends up where the road seems to be leading. She's glad UF has been part of her journey and loves that "people do what they are doing here because they really, really like their work. They're really interested and passionate about it. It's very different than in India, where they might work for economic stability" or other reasons. "They are so dedicated to their field."
Being exposed to so many people from so many cultures — a friend from China, a mentor from Pakistan, and such — is something she doesn't think she would have experienced anyplace else. She's cognizant of those around her, their lives, what's meaningful and what's not.
"I actually caught myself before I had been here for a year and got caught up in the day- to-day routine and started complaining, talking about the pressure," she says. "Then I take a moment and think: 'This has been a dream come true for me.' I look at everyone… on campus, the energy, the beauty. It's a heartwarming experience to be here, to be present."
Catching a Gator football game is on her list of things to do. "I'm waiting for it to cool down a bit. Not a big fan of the hot and humid weather," she said during a 90-degree day in early October.
She felt the greatness of the University when she first walked into the Gator Swim Club.
"It's so amazing, the moment you go to the school, you see these pictures of all these people who swam for UF. I feel honored to go to the pool. Dara Torres (another CJC graduate) is an inspiration; she won a couple medals, took a break, then came back."
She says she's not fast enough to compete in pool races, but that's changing because she's learning so much from the swim club coach.
"I do wish we had better training in India. I've been swimming for 25 years now and I feel like I'm just learning how to swim here. If I had had the last 25 years with the training I have here, my life would be much different."
Being honored as part of the Hero Motocorp auto manufacturer's #askwhy campaign has helped her spread the word of  gender stereotypes. Hero bills it's campaign around asking why — why only boys can do certain things, why girls don't get the recognition they deserve. "Why is a small word with big potential. For over 10 years, Hero Pleasure has been asking why and challenging society's rules for women," Hero says on a YouTube video dedicated to Sharma.
"They've always been very vocal about their support of females. Their old ad campaign was, 'Why should boys have all the fun?' They wanted to cover stories of female achievers online. #askywhy questions the status quo, especially when it's based on sex, race, anything. But also #askwhy to yourself: 'What is your inner moral compass based on? Why are you doing the things you are doing?' "
During public speaking engagement, she answers questions from boys and girls who want to know how she's achieved what she has, how she does things. "Mentoring is not a role I've done intentionally, but I always find time to talk to people and answer their questions."
She's humble during an interview, saying she wouldn't change anything in her life. "Everything that happened to me has made me who I am; that's the reason I am where I am."
Posted: October 16, 2018
Category: Profiles, Student Profiles
Tagged as: bhakti sharma