CJC Students Participate in The Washington Post and Instagram Midterm Elections Video Project
Three University of Florida College of Journalism and Communications student journalists were selected to participate in a collaborative midterm elections video project hosted by The Washington Post and Instagram.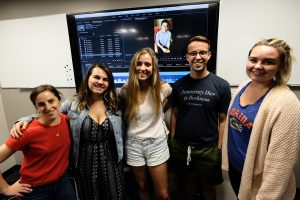 Journalism senior Bailey LeFever, Journalism junior Mackenzie Behm and Telecommunication senior Veronika Vernachio worked with Washington Post editors to produce an election-themed IGTV video from the perspective of college student voters. IGTV is a standalone vertical video application owned by Instagram that allows users to upload videos from 10 to 60 minutes in length.
The video can be seen by going to @washingtonpost on Instagram and then clicking on IGTV.
UF is one of four journalism schools in the U.S. selected to participate in the project. CJC faculty recommended the three selected students.
Jayne Orenstein, Post video producer and editor working in emerging platforms, and Teddy Amenabar, part of The Post audience engagement team, came to Gainesville  on Oct. 4-5 to serve as mentors to the students. Their production, the first four-minute IGTV video report, focuses on activism and the heightened political attention on gun control after the mass shooting at Marjorie Stoneman Douglass High School in Parkland, Florida in February. The video will be available starting on Oct. 6.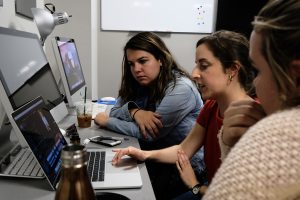 According to Orenstein, The Post looked for large public schools with strong journalism programs in battleground states. They invited LeFever, Behm, Vernachio and Journalism Professor Mindy McAdams to Washington, D.C. on Nov. 23-25 to learn video interviewing and storytelling techniques before embarking on their project. Students from University of Southern California, Texas Christian University and Ohio University will also be part of the project.
The experiment with IGTV is part of a Post fellowship partnership with Instagram, which has supplied an unspecified amount of support for the program's logistics.  The series will be featured exclusively on The Post's IGTV channel. A new video will publish every Saturday until Election Day.
Posted: October 5, 2018
Category: College News, Student News
Tagged as: IGTV, Instagram, Mindy McAdams, The Washington Post