Andrew Selepak Comments on GRE Scores, Social Media Addiction and the Loneliness Epidemic
Andrew Selepak, University of Florida College of Journalism and Communications director of the online Master's program in social media, was quoted in "What is a Good GRE Score for Graduate School Admissions?" published in U.S. News & World Report on July 16.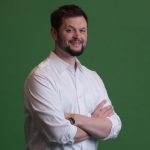 The article offers advice from experts for graduate school hopefuls wanting to know how well they need to perform on the GRE exam to gain admission. Selepak says that GRE scores that are good enough for someone to qualify for one grad program may not allow them to be a competitive candidate elsewhere.
"Some schools may have higher or lower GRE score requirements and therefore it is important for the applicant to learn the minimum score for the program they are applying to," he said. "But a few points higher or lower can make all the difference when applying for graduate school and it is important for the applicant to not only keep this in mind, but to also know the minimum score required."
Selepak was also quoted in "Does the Rise of Social Media Addiction Warrant Regulation? Experts Have Their Say," published on Verdict on July 12.
The article focuses on the growing concern of social media addiction and features expert opinions on what to do about the problem.
According to Selepak, "the truth is that we cannot stop all addiction. People can become addicted to drugs, gambling, sex, or even exercise to where it becomes unhealthy. While some apps are specifically designed to be more addictive, we must ask whether the government should be trying to protect us from ourselves?"
Finally, Selepak was featured in "An Epidemic of Loneliness – Among Lawyers and Doctors" published on iheartradio.com on July 11. The story focuses on the U.S. epidemic of loneliness and how it affects certain professions more severely than others. A key factor seems to be the type of profession and the level of education.
Selepak comments on the connection between education and loneliness and how he believes that graduate school is best suited for introverts. He says that most of his work was done alone in front of a computer or in a library, which didn't sit easily with his extroverted personality. He sought out people outside his area of expertise to talk about other topics.
"To get to the point where you become a college professor, a doctor, a lawyer, one of the occupations that might take more education," he said, "you've spent literally years doing work that is relatively solitary."
Posted: July 20, 2018
Category: Alumni News, College News
Tagged as: Andrew Selepak, iheartradio.com, U.S. News & World Report, Verdict