The Agency at UF Appoints Mark Rottensteiner as Business Development Coordinator
The Agency at the University of Florida today announced that Mark Rottensteiner has been appointed Business Development Coordinator. Rottensteiner will be responsible for creating business opportunities and cultivating relationships.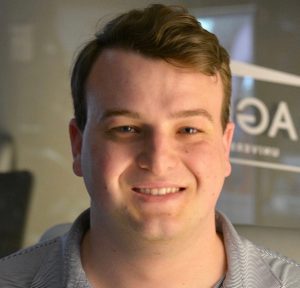 A 2018 Public Relations graduate from the University of Florida College of Journalism and Communications (UFCJC), Rottensteiner has worked at The Agency for the past two years as a student team member. A Tampa native, he grew up in a marketing environment. His father was VP Marketing for Mercedes Benz/Europe.
The business development coordinator position is underwritten by UFCJC alumnus Pete Barr Sr., B.S. Advertising 1957, founder of Orlando advertising agency, &Barr.
"We're pleased to welcome Mark to our team as a professional," said Andy Hopson, Executive Director at The Agency. "And we are grateful to Pete Barr Sr. for his generous support that makes this position possible."
"The mentoring and training I received as a student at The Agency have given me the confidence and preparation to take this first step in my career," said Rottensteiner. "I'm excited to roll up my sleeves and get to work."
Led by a suite of professionals and staffed by over 100 students, The Agency helps clients seeking to engage with Millennials using MAVY™, a proprietary panel of 18-38 year-olds who participate in various types of research.
Rottensteiner follows Kelli Kaufmann, B.S. Advertising 2017, who joined Disney's Yellow Shoes in Orlando, Florida.
Posted: June 12, 2018
Category: College News
Tagged as: Mark Rottensteiner, The Agency