STUDENT PROFILE: Josie Kuhlman, Public Relations Senior
By Alexa Asendorf, B.S. Public Relations, 2013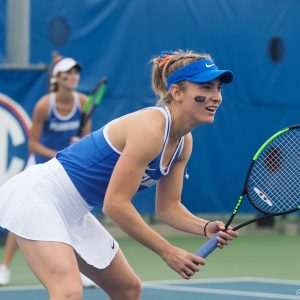 A perfect GPA and nationally ranked athlete. An academic unicorn? If so, we found one at the University of Florida College of Journalism and Communications (UFCJC).
Twenty-two-year-old Mary Josephine "Josie" Kuhlman is a UFCJC public relations senior with a 4.0 and a national College tennis ranking as high as number three during her academic career.
Juggling academics and athletics has made Josie a master scheduler – a necessary skill as she attends rigorous workouts, practices and tournaments, all while maintaining her perfect GPA.
The sixth child in a family of seven, Josie first picked up a racket as a toddler at home in her Ponte Vedra, Florida, driveway. The five children who came before her were boys, all basketball players who went on to play in college. Josie was the first of her siblings to stray from the pack and adopt tennis as her sport of choice.
She began taking tennis seriously at ten years old, the same year she began lobbying her parents to homeschool her so that she could focus more intently on her sport. They conceded four years later. From eighth grade through high school graduation, Josie's classroom was her family home and her mother was her teacher. She spent the majority of her time on the courts or traveling around the globe playing in tennis tournaments.
When it came time for college, Josie was drawn to UF because of its stellar tennis team. A self-described people person who "loves to talk," Josie initially intended to pursue a degree in telecommunication, in hopes that she would eventually wind up in sports broadcasting.
She decided to take a detour and switch her major to public relations. Given that immediately after graduation she will transition into a professional tennis career, she wanted to choose a major that would give her options down the road.
"You can do a million different things in public relations," Josie said. "I like the idea that public relations professionals always have something new going on, and can choose any industry to work in. It's such a flexible degree."
Josie says she might apply her skills to a nonprofit tract once her tennis career winds down. A practicing and involved Catholic, she says that she'd love to work for the Catholic Church, which is "very close to her heart."
As for now, she's enjoying the practical application of her public relations classwork. For the last two semesters, Josie has been interning with Kathy Cafazzo, the University Athletics Association communication team's primary liaison with the women's basketball and tennis teams.
Josie's internship provides hands-on experience drafting press releases, helping to write feature stories and working behind the scenes.
In addition to managing her internship and schoolwork, Josie spends hours each day practicing tennis and exercising.
How does she juggle everything? Prioritization.
"It's all about prioritizing," said Josie. "Like anything else in life, you have to prioritize what's most important to you. You have to make sacrifices. You can't be a fulltime student, a fulltime athlete, a fulltime friend. You have to realize that if you want to be a student athlete, you have to prioritize what means most to you."
When she first applied to college, she prioritized schools that would help her create a schedule that was conducive to maintaining her demanding athletic life.
She's taken advantage of UF's vast online class offering, accessible teachers and the University's willingness to accommodate her unusual schedule.
Josie's academic advisor, UAA Assistant Athletics Director Tom Williams, has been particularly helpful over the past four years, and overall, she says, UF and CJC have given her an "amazing academic support system." While she often misses class to travel for matches, she makes up for her absence by working overtime on her classwork.
Thanks to the support and flexibility provided at UF, Josie has managed to be successful in both athletics and academics. On May 6, her schedule will become simpler when she walks across the O'Connell Center stage and graduates. Then, the "long road ahead" to pursuing a professional tennis career really begins.
Posted: April 6, 2018
Category: Profiles, Student Profiles
Tagged as: Gator Tennis, Josie Kuhlman, Public Relations