Rico Pasqualini, B.S. Public Relations 1992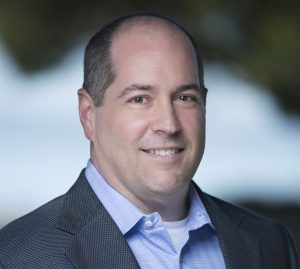 Before Rico Pasqualini was the president of the world's leading backpack maker, he was a public relations student at the University of Florida College of Journalism and Communications. Much has changed in his life between then and now, but one aspect remains the same: At both the CJC and JanSport, he is part of a family.
"There was an unbelievable sense of community at UF. I felt like I was part of something bigger than myself," Pasqualini recalls. "That drove my passion after I got out of school. I yearned for that same feeling of belonging. I was lucky enough to find that at JanSport."
Pasqualini was drawn to the field of public relations for its opportunities to flex his creative muscles for both internal and external audiences. As a high school student in Clearwater, Fla., he had served as a reporter for the school newspaper. The constant time crunch of daily journalism, however, made him wonder if there was another field where he could apply his innovative thinking. He calls entering the CJC Public Relations program one of the single best choices he's made in his life.
"The foundation of journalism and the writing background I received has served me well throughout my career. The discipline, the high standards of excellence that UF requires have aided me," he says. "I remember being in reporting class and thinking that taking 50 points from my paper for a single fact error was unfair. But now I know that it taught me no detail is too small to miss."
In January, Pasqualini was named president of Alameda, California-based JanSport after 17 years at the company, the last 10 as vice president of sales. He says running a brand is an exciting endeavor full of challenges and rewards.
"My days move quickly and are full of energy. I bounce from working with people in sales to finance to marketing to operations. Every day brings new challenges, which is both exciting and fun, and keeps me motivated. Not many people can say that," he says. "The most rewarding part of my job is seeing consumers using our products out there experiencing life's adventures, whatever those might be. The most challenging aspect is making sure retailers respect your brand and position it accordingly. When you manage a brand, you have to ensure its health and longevity."
Pasqualini says when he was a public relations student, he couldn't wait to find out where his career path would take him. His advice for current students is simple: dive in headfirst.
"Get out there. Your first job is a mechanism that leads you to your next job. The sooner you jump in, the sooner your journey begins," he says. "And don't be afraid to take chances and explore different parts of the country."
Though Pasqualini has lived in the Bay area with his family for more than a decade, he enjoys returning to Gainesville at least once a year to take in a Gator football game and stroll along campus with his daughter. Pasqualini hopes one day in the near future he'll be visiting his daughter as a proud Gator parent.
"To think I'm preparing my daughter for her education at UF is incredible. Taking her to Gainesville is our most treasured weekend of the year. We make these endearing memories every time we go," he says. "It's a big campus, but it feels small. It feels like home."
This "Defining Moment" was written by Tyler Francischine, B.S. Journalism 2011
Posted: April 6, 2018
Category: Alumni News, Alumni Profiles, Profiles
Tagged as: Defining Moments, JanSport, Public Relations, Rico Pasqualini