Tim Sorel Honored as CJC International Educator of the Year
In recognition of his international documentary film work, Tim Sorel, University of Florida College of Journalism and Communications (CJC) Telecommunication associate professor, was selected as the 2017-18 CJC International Educator of the Year. The award acknowledges outstanding contributions by faculty and staff to the internationalization of the College and the University.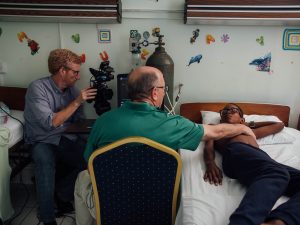 Most recently, Sorel was on location on the Caribbean islands of St. Vincent and St. Lucia to shoot digital video stories for a TV series pilot titled "The World Pediatric Project."  This series features compelling stories of Eastern Caribbean children whose lives are saved by visiting surgeons from the U.S. and highlights life-altering care and the bonds created between doctor and child. The project is sponsored in part by a grant from Edwards Life Sciences Foundation and the World Pediatric Project of Richmond.
Sorel's 2017 documentary "My Kid is Not Crazy" has been screened in 22 countries to date and was the winner of the Broadcast Education Association Best of Festival Faculty Chair Award – the highest honor given in a competition of nearly 1,500 entries.
Sorel's additional film credits include the Emmy-nominated "Women, Children and AIDS" and "The Trap of Saving Cambodia" which fueled a realignment of U.S. State Department policy concerning human rights in Cambodia.
Posted: March 9, 2018
Category: College News
Tagged as: CJC International Educator of the Year Award, Tim Sorel