STUDENT PROFILE: Merrett Fay, Advertising Sophomore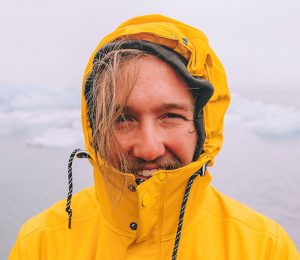 By his 20th birthday, Merrett Fay had traveled to and photographed over 22 countries. Self-taught, he has a knack for capturing the moment wherever he may be.
Fay, a University of Florida College of Journalism and Communications Innovation Academy Advertising sophomore, discovered his talent and passion for photography at the cost of another passion, wakeboarding.
"Wakeboarding was my passion from age 14 to 18 until I blew out my knee," said Fay. "I made it to the world tour and accumulated an impressive sponsor list including Nautique Boats and Hyperlite."
What do you do when one door closes? You get up and find another. "When I had to drop out of the sport, my sponsors helped launch my photography and video business," said Fay.
He now shoots for his wakeboarding sponsors, and collaborated on an international artistic endeavor for a Capital One Bank campaign that took 40 days and traveling to 10 countries. He has embarked on two student National Geographic Expeditions to the Czech Republic and India, and travels on weekends to music festivals to capture some of his favorite artists including Post Malone, Armin van Buuren, and 3lau.
"Traveling to all these countries and almost every continent has been amazing and I have found that you can do the coolest things even in challenging places," said Fay. "My visit to India for National Geographic was a culture shock. I took photos of kids that were living in some terrible conditions, but they were still incredibly happy. We could not communicate with language so instead we used gestures to connect. This was an incredible two-hour photo experience that I won't forget."
As an Innovation Academy student, he has the fall semester available for travel and has crafted his spring and summer semester class schedules to accommodate trips on the weekends. While at CJC, he joined The Agency, the CJC in-house strategic communication agency powered by students.
Last May, with the encouragement of CJC Visual Coordinator Ryan Jones, he joined 16 students in Cuba for the multimedia study abroad program "Cuba: Outside In."
"The Cuba trip was an exciting opportunity," said Fay. "I think that all photo classes should offer this kind of real world experience."
Fay's parents and his UF alumni grandparents are supportive of his pursuits. He is eager to graduate to do his work full-time but, until then, he will continue to travel the world and hone his photo skills. Fay strives to look at everything from a different angle and feels that if you dedicate your time to learning about new things you can do amazing work.
Posted: January 17, 2018
Category: Profiles, Student Profiles
Tagged as: Cuba: Outside In, Merrett Fay, Natitional Geographic, The Agency