Frank LoMonte Comments on a Martin County First Amendment Violation
Frank LoMonte, director of the University of Florida College of Journalism and Communications Brechner Center for Freedom of Information was quoted in "Whatever You Do Don't Criticize Commissioners By Name" published in Rich Campbell's column in Treasure Coast Palm on January 9.
The article focuses on the Martin County Commission's new policy governing public comment prohibiting praise or blame of individual commissioners and how it might violate Florida's Sunshine Law and the public's First Amendment rights.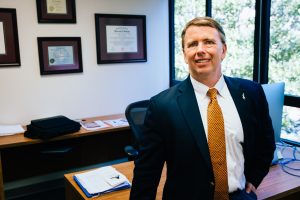 "Content-based restrictions on speech during the public comment period of government meetings are generally struck down as unconstitutional when they're challenged," LoMonte said. "Once the government sets out a platform and invites speakers to use it, they've created a 'forum,' and any regulation of content in that forum is presumed to be a violation of the First Amendment unless justified by a compelling reason."
According to LoMonte, Martin County does not have a compelling reason to regulate whom public speakers can address.
"It doesn't appear the county has presented any especially compelling reasons other than decorum," he said. "And the fact that elected officials don't like being called out by name is not a sufficient justification to override a speaker's First Amendment rights."
Posted: January 11, 2018
Category: College News
Tagged as: Brechner Center for Freedom of Information, Frank LoMonte, Treasure Coast Palm News