CJC Graduate Students Complete Elements for "Game of Thrones" Tourism Marketing Plan
Graduate students in University of Florida College of Journalism and Communications online master's specializations in Social Media and Global Strategic Communication in partnership with Winterfell Tours, developed a communication marketing plan to promote one of the only "screen tourism" locales in the world for the award-winning HBO show "Game of Thrones."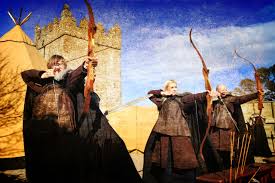 Two groups of students focused their efforts on the already popular Game of Thrones filming locations including Winterfell Castle, Walder Frey's Twins, Robb Stark's camp, and more than a dozen other locations at Old Castle Ward and estate in Northern Ireland. Winterfell Tours will now select the marketing elements they want to share from 60 days of evergreen content created by the students.
"Game of Thrones is the most popular show on television, and being able to work with our students and Winterfell Tours creating a marketing plan to increase tourism was a tremendous opportunity for collaboration," said Andrew Selepak, director of the Social Media program.
"Working with the UF Capstone class was a terrific experience," said Ruairi McErlean of Winterfell Tours.  "The social media plans were very well done, and it is our hope that we can use the learnings to improve visits to Winterfell and continue to expand our presence in the travel world."
Capstone class member Barbara Odette added "I was able to apply everything that I learned throughout the program and prepare a social media marketing plan for a global client. Working with the other students in the course as a team gave us real-world experience, helping to prepare us for similar projects in our careers."
The capstone class is taught by Bob Hughes, manager of Specialty Products at Georgia Power in Atlanta, Ga.  It is the culmination course of the College's online graduate degrees and challenges students to utilize and apply skills learned throughout their graduate coursework.
Posted: December 14, 2017
Category: College News, Student News, Uncategorized
Tagged as: Game of Thrones, Global Strategic Communication Master's, Social Media Master's, Winterfell Tours