CJC METL Virtual Reality for Social Good Course Featured on UF Website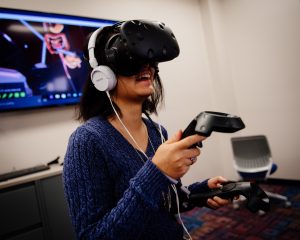 The University of Florida College of Journalism and Communications Media Effects and Technology Lab was featured in "VR for Social Good" published on the UF web site on Nov. 14. The article features the first course developed by Sri Kalyanaraman, Journalism professor and director of the Media Effects and Technology Lab, and Computer Science Professor Benjamin Lok, for UF's VR for the Social Good Initiative.
The VR for the Social Good Initiative connects students who are seeking knowledge about virtual, augmented, and mixed reality with researchers and entrepreneurs who want to solve social good problems. The summer 2017 semester course, taught by postdoctoral fellow Shiva Halan, tackled four issues: virtual verdancy, effects of sugar overconsumption, improvement of pain resiliency through computer game participation, and the effects of sea-level rise in Miami Beach.
Posted: November 27, 2017
Category: College News
Tagged as: Media Effects and Technology Lab, Sri Kalyanaraman, VR for Social Good Initiative