Clay Calvert Speaks on the First Amendment at TEDxUF2017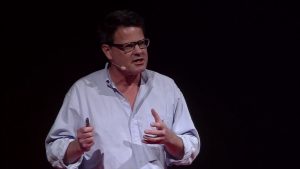 "Catching Cops on Camera" was the theme of University of Florida College of Journalism and Communications Marion B. Brechner First Amendment Project Director Clay Calvert's TEDxUF talk on April 1 at the Phillips Center in Gainesville.
TEDxUF2017 featured nine speakers exploring the idea of transparency, sharing experiences and new perspectives from a wide range of disciplines and backgrounds. Calvert spoke on the impact of videos on the criminal justice system. He emphasized that a smartphone is a tool for accountability not intrusion. The First Amendment does not offer blanket protection. Citizens and police must know their rights, exercise their rights, and realize that a fine line exists between observation and interference.
Posted: May 11, 2017
Category: College News
Tagged as: Clay Calvert, Marion B. Brechner First Amendment Project, TEDxUF2017