CJC Creates R&D Lab with Futuri Media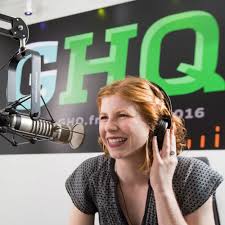 The University of Florida College of Journalism and Communications and media technology innovator Futuri Media have partnered on an unprecedented research and development lab – GHQ – Futuri's first engagement with a higher-education institution.
The announcement was made during a presentation titled "Millennials, Gen Z'ers, and the Future of Media" at the Broadcast Education Association's event during the National Association of Broadcasters conference in Las Vegas.
In January, 35 selected students launched GHQ, a new, dynamic multi-platform "radio" station using mobile, social and digital audience engagement technology designed by Futuri. With help from professional staff at UFCJC and Futuri, the "G-Team" is implementing audio-based app features and testing engagement, acceptance and likability through digital and social platforms in UF's 50,000+ student community.
Students occupy various positions at GHQ and another team of students is working with CJC Telecommunication Professor Sylvia Chan Olmsted to conduct market research that will be shared with the industry.
GHQ, a contemporary hit-radio formatted product, is available over the air in Gainesville on 95.3 FM in addition to transmitting on the College's WUFT-FM HD3 signal to the Gainesville-Ocala, Fla. market.  Audio and entertainment content is available nationwide through the GHQ app, which incorporates the entire suite of mobile audience engagement features designed by Futuri.
Posted: April 27, 2017
Category: College News, Student News
Tagged as: BEA, Futuri Media, GHQ, NAB