CJC Librarian April Hines Co-Authors Book on Successful Collaboration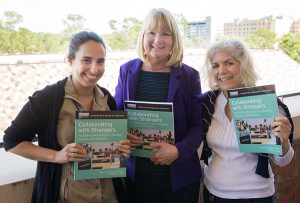 University of Florida College of Journalism and Communications Librarian April Hines is co-author of a recently published book, Collaborating with Strangers: Facilitating Workshops in Libraries, Classes, and Nonprofits. The resource leads readers through a unique framework that breaks down barriers to collaboration while also kindling long-lasting enthusiasm and inspiring organizations to extend that connection to include the talents and assets of community members.
In the book, Hines, UF Library Grants Manager Bess G. de Farber and UF Library Communications Director Barbara Hood share their CoLAB collaboration workshop experiences. Developed and presented by Bess G. de Farber at workshops across the country, and used by co-authors April Hines and Barbara J. Hood to successfully spur collaboration at UF. Over the last three years CoLABs were held in CJC classes, for student groups (including SAGE and PRSSA),and brought CJC together with other colleges on campus such as Health and Human Performance and the College of Education and for frank scholar.
The CJC collaborations are highlighted throughout the text and Senior Associate Dean of Graduate Studies Debbie Triese, Executive Associate Dean Spiro Kiousis and former Public Relations Chair Juan-Carlos Molleda are listed in the acknowledgements.
Posted: March 14, 2017
Category: College News
Tagged as: April Hines, CoLAB, Debbie Treise, Juan-Carlos Molleda, Spiro Kiousis, UF Library