Brigitta Brunner-Johnson Appointed Inaugural Editor of the CJC Journal of Public Interest Communications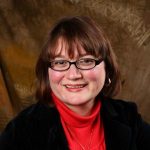 Dr. Brigitta Brunner-Johnson has been selected as the inaugural editor of the University of Florida College of Journalism and Communications Journal of Public Interest Communications (JPIC). JPIC is a new scholarly journal publishing the latest research in public interest communications. It will be housed in the College under the direction of Linda Hon, director of the Public Relations and Social Advocacy Project in the Center for Media Innovation and Research.
Brunner-Johnson is a professor in the Auburn University School of Communication & Journalism. Her research focuses on civic and community engagement and civic professionalism in public relations.
JPIC is an interdisciplinary effort featuring research on social science, neurological advances and communication research to inform campaigns launched by businesses, nonprofits and social movements in the public interest.
According to Brunner-Johnson, "by finding and publishing research with real-life impact that moves beyond talking scholar-to-scholar and invites the professional community to join the conversation, the journal will focus on research that has practical applications that help create policy and/or behavioral change."
Posted: January 30, 2017
Category: College News
Tagged as: Brigitta Bruner-Johnson, Journal of Public Interest Communications, Linda Hon