CJC Alum Honored in Annual Hearst Journalism Awards Competition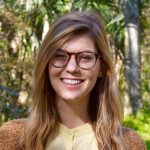 Ashley Lombardo, B.S. Journalism 2016, recently received eleventh place in the Feature Writing Category in the 57th annual William Randolph Hearst Foundation's Journalism Awards Program.
Lombardo wrote a powerful story about sex trafficking in Gainesville for Journalism Professor and Department Chair Ted Spiker's Advanced Magazine Writing class last spring. The three-part series: "Hidden in Plain Sight," "A Divorce from the Streets," and "Break the Silence" was published online in The Fine Print.
She spent uncountable hours reporting and developing this difficult project. Samantha Schuyler, B.S. Journalism 2016, assisted with editing and Journalism Associate Professor Norm Lewis offered vital mentoring on very tricky ethical situations in reporting and publishing this story.
Lombardo's entry was one of 141 received from 74 schools in the featuring writing category.
Posted: January 6, 2017
Category: College News
Tagged as: Ashley Lombardo, Journalism, Norm Lewis, Ted Spiker, William Randolph Hearst Foundation's Journalism Awards Program