Tom Kelleher, MAMC '96, PhD '99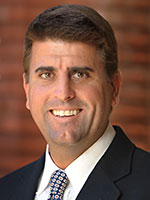 Summer internships are often remembered as grueling unpaid work.
For Tom Kelleher, now chair of the CJC Advertising Department, he remembers his summer internships as defining moments in his life.
As a pre-dental undergraduate student at the University of Florida, Kelleher would spend his weekends in St. Augustine, Fla., surfing the waves with his brother and searching for a career that he could love as much as his time on the beach.
In his junior year, he transferred to the Flagler College Communications Department in St. Augustine. At that time, he was bartending to make some extra cash. At one event, he met the vice president of marketing for Golden Bear, Jack Nicklaus' company in North Palm Beach.
They spent the evening talking shop, and, by the end of the night, Kelleher had secured his first internship for the summer going into his senior year. He remembers this internship as a defining moment in his life.
"I was working in this environment that summer where everyone just loved their job.  Everyone was crazy about golf, golf course designs, golf clubs and all the products that they marketed," he said. "That was pivotal, because I realized that I could do work that I loved."
In his application to graduate school, he wrote about his dream to one day own his own agency or become a college professor.
He was accepted into CJC's Master of Arts in Mass Communication program in 1994.
In 1995, after his first year as a graduate student, he received his second summer internship with public relations giant Ketchum in Atlanta. Again, he experienced a defining moment.
"I was getting to work on all these accounts for big companies that were setting up for the Olympics the following summer. There was a lot of buzz and excitement in the city. I was able to live that life as an intern and do a million different things. I applied everything I learned as an undergrad and grad."
As a next step, Tom decided to apply for a Ph.D. The week he was accepted to the Ph.D. program, he also received a call from Ketchum to join their team full time. He remembers sitting down over a few beers with his now wife to discuss which path he would take.
"I remember thinking this is stressful, but so cool that the two things I wanted were presented."
He was thrilled that he had agency experience, but found himself called to academia.
Having the option to choose would not have been possible without his summer internships.
Posted: March 1, 2016
Category: Alumni News
Tagged as: Defining Moments, Tom Kelleher